POMPE DE CALDURA, AER CONDITIONAT, CHILLER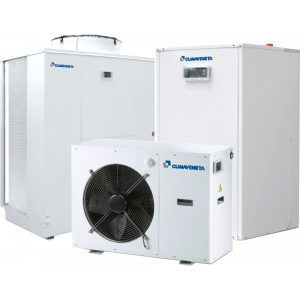 WHISPER 0102 – 0604
Reversible air cooled high efficiency all in one rooftop units Total cooling capacity 35,7 – 197 kW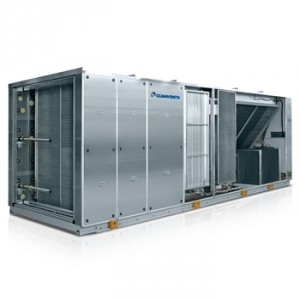 High efficiency autonomous and reversible air to air Rooftop unit for the complete thermohygrometric air treatment. The filtration, ventilation and air renewal are provided by a packaged solution that perfectly suits high volume applications – e.g. supermarkets, shopping centers, etc- Both winter and summer operation, double refrigerant circuit, hermetic rotary scroll compressors with R410A refrigerant, external section with direct expansion finned exchangers with thermodynamic effect on the exhaust air and axial type fans. Air treatment section with plug fans, direct expansion finned internal exchangers and motorized external air, mixing and expulsion dampers. Advanced ventilation management also according to the thermal load thanks to the "Vair, Variable Flow" function.
Features
VARIABLE AIRFLOW FOR AIR TREATMENT SECTION
The VAir function allows to change the air flow according to the therma load, providing a significant reduction in terms of electrical consumption for the air treatment fans.
HIGH ENERGY EFFICIENCY
The use of the R410A, the high energy recovery rate from the exhaust air and the use of intertwined coils provide an high energy efficiency during the working of the unit.
PLUG-FAN VENTILATION
The supply and return plug fans combine the high efficiency of the ventilation section with an easy and fast installation of the unit, both electrical and aeraulic.
CONTINUOUS WORKING
The wide working field and the accurate design of the unit ensure optimum performances and comfort, with a continuous and constant thermal supply also during heavy thermoigrometric working conditions
SAFE USE
Refrigerant lines and regulation devices are easily accessible and separated from the air treatment section. Thus meaning a reduction of contamination accidental risk and allowing the valves adjustment while the unit is running.
Accessory
Hot gas post heating
CO2 control sensor for air quality
High efficiency filters: electronic or rigid pocket F7
Enthalpy free-cooling
Set-up for remote connectivity with ModBus/Echelon protocol cards
Remote control keyboard (distance to 200m and to 500m)