POMPE DE CALDURA, AER CONDITIONAT, CHILLER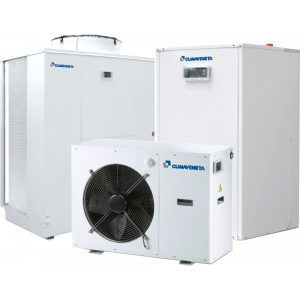 WET-RTF 0102 – 1204
Water cooled rooftop unit for WLHP and WSHP, outdoor installation
Total cooling capacity 41,2 – 388 kW Autonomous reversible water-cooled Rooftop unit, for the thermohygrometric treatment, filtration and air renovation, based on the selected configuration. WET RTF units are the ideal air-conditioning solution for large spaces, such as supermarkets or shopping centers with water loop system, featuring maximum flexibility and versatile use and always offering the best solution for each application. Hermetic rotary scroll compressors with R410A refrigerant and double refrigerant circuits available for all the models. 42 mm sandwich paneling, aluminum profiles for the structure, coated galvanized steel base and centrifugal fans. The standard configuration treats 100% recirculated air; this can be supplied, upon request, in the MIX version (mixture between inside and outside air), FCS version (free-cooling management with supply fans) or FCC version (free-cooling management with supply and return fans).
Configurations
PC – function for constant water flow system
PV – function for variable water flow system
PP – function for disposable water system
Features
FLEXIBILITY
Climaveneta's units offer the opportunity to choose different supply and return airflows directions.
REFRIGERANT GAS R410A
The use of R410A allowed to achive better energy efficiencies with environment full respect (ODP = 0)
CONTINUOUS WORKING
The wide working field and the accurate design of the unit ensure optimum performances and comfort, with a continuous and constant thermal supply also during heavy thermoigrometric working conditions
SAFE USE
Refrigerant lines and regulation devices are easily accessible and separated from the air treatment section. Thus meaning a reduction of contamination accidental risk and allowing the valves adjustment while the unit is running.
Accessory
Hot gas post heating
CO2 control sensor for air quality
High efficiency filters: electronic or rigid pocket F7
Enthalpy free-cooling
Set-up for remote connectivity with ModBus/Echelon protocol cards
Remote control keyboard (distance to 200m and to 500m)
Controls
AIR3000
The controller AIR3000 offers advanced functions and algorithms. The keypad is generously sized with full operating status display. The controls and detailed LCD make access to unit settings easy and safe. Temperature regulation is based on step-wise proportional logic referring to the return air temperature. The diagnostics includes full management of alarms with the black-box and alarm logging functions for enhanced analysis of the unit operation. Supervision can be easily developed via proprietary devices or the integration in third party systems by means of the most common protocols as ModBus, Echelon LonWorks. Compatibility with the remote keyboard managing up to 10 units. Availability of an internal real time clock for operation scheduling (4-day profiles with 10 hour belts). The defrost adopts a proprietary self-adaptive logic, which features the monitoring of numerous operational parameters. This allows to reduce the number and duration of the defrost cycles, with a benefit for the overall energy efficiency.