POMPE DE CALDURA, AER CONDITIONAT, CHILLER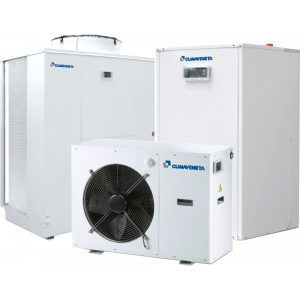 i-MID 0031 – 0061
Packaged INVERTER air conditioners for indoor installation for telecommunication shelters Total cooling capacity gross 4,40 – 15,0 kW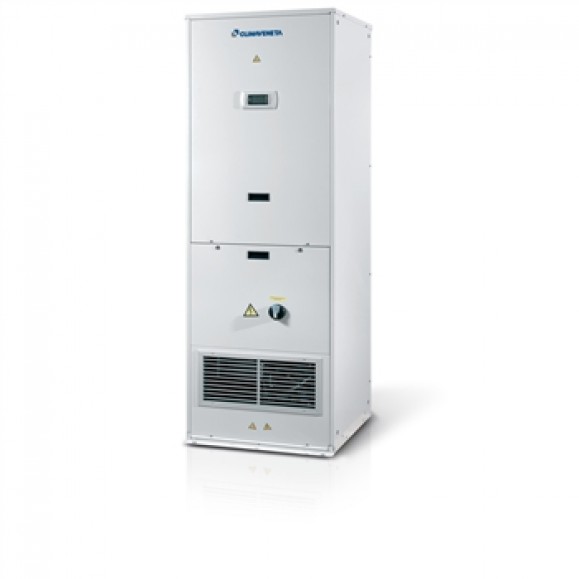 The packaged air conditioners for telecommunication shelters are direct expansion packaged systems for indoor installation, which are fitted with external panels in electrogalvanized steel sheet with powder-coated paint finish. The units can be fitted with a Free Cooling damper (optional), which ensures 30% annual energy savings compared to standard systems. The evaporating section fan could work on a direct current at 48 Volt (optional) to ensure operation in an emergency. Climaveneta units are also made to ensure a standard level of operation even under extreme environmental conditions. The INVERTER compressor allows the cooling capacity modulation according to the real internal load, particularly efficient at the partial loads and optimizing the power absorbed and eliminating the start current. Units fitted with electronic expansion valve.
Features
Maximum resistance to rust thanks to galvanised sheet metal structures and panels with powder-coated paint finish. The panels are lined with sound-insulating material to limit noise levels.
The reliability and functionality of the all parts are guaranteed by partners who are world leaders in their sector.
Condensing control for lower noise levels
User terminal supplied as standard.
Contacts for alarms and working state signal plots
EU3 air filter or EU4 as option
Capillary Pre and After sales service.
Accessory
Electric heating coil
Emergency mode with UPS
Interface electronic board
Free cooling damper
Controls
EVOLUTION
Semi-graphic display 132 x 64 pixel, 6 backlit buttons, Programmable software, Record storage of 100 alarms, General alarm, Automatic reset after blackout, Integral LAN system, Standby management, Automatic rotation, Serious alarms, 6 configurable Output alarm.