POMPE DE CALDURA, AER CONDITIONAT, CHILLER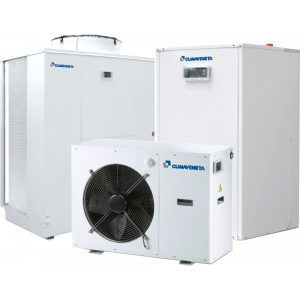 i-LIFE SLIM 102 – 502
Residential fan-coils with cabinet or concealed version, with inverter motor e tangential fan. Total capacity in cooling mode 0,84 – 3,86 kW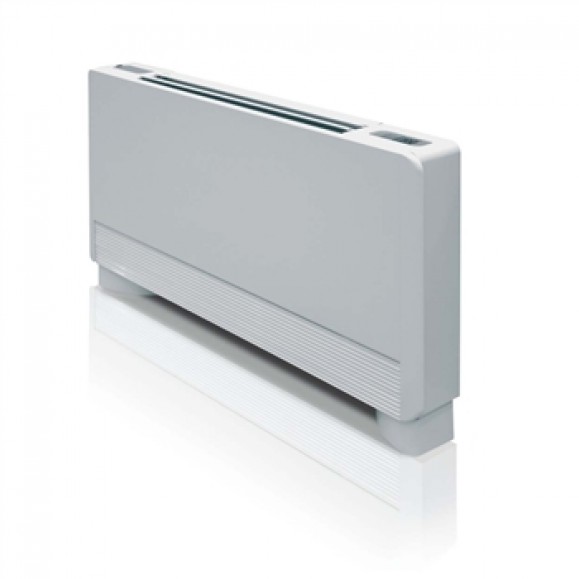 i-LIFE SLIM is the new fan coil Climaveneta , with inverter technology for heating, cooling and dehumidifying. Its elegant design with only 13 cm depth makes i-LIFE Slim the perfect solution for residential applications. The fan coil is also available with i-LIFE R-SLIM inverter version with radiant panel. The brushless motor allows a perfect adaptation to thermal load, without any temperature fluctuations. Tangential fans operate through continuous air flow modulation, with no speed steps or relay switching as traditional fan coil units. High efficiency is guaranteed in any HVAC installation setup, in combination with any low temperature heat generator.
Version
DLIU – Built-in version for universal installation.
DLMV – Version with cabinet for vertical installation
DLMO – Version with cabinet for horizontal installation
DLRV – Radiant Version with cabinet for vertical installation.
Features
DC motor with inverter technology with continuous speed regulation, to ensure the best performance with a very low noise level.
Elegant design and reduced depth of only 13 cm, for installation in a residential enviroment.
Tangential fan with asymetric blades that ensures the continuous modulation of the air flow for a better comfort and real energy savings.
Coil with large frontal area that allows to reach high air flow with very low pressure drop.
Honeycomb polypropylene air filter which can be regenerated by washing or blowing.
Elegant cover structure that integrates the use of high quality plastic materials, with traditional galvanized and epoxy powder coated materials.
Configuration for 2 pipes systems.
Accessory
Drain Pan for horizontal installation
Main coil 2-way/3-way valve unit
Fitting for air intake in built-in installation
Telescopic air flow duct and 90° duct for false ceiling and build in installation
Alluminium air flow vent for wall mounting
Alluminium Air intake grid
UVC air sterilisation device
Casing for build in version – i-LIFE Slim Box
Casing cover panel with frame and front panel grid
Eurokonus adapter
Pair of decorative and structural feet
Controls
iKS2 – on board Control
On-board control for unit with cabinet complete with touch keypad with 8 touch key, LCD display with colored symbols. Modulating fan speed with PID logic, temperature regulation, winter/summer mode, automatic mode for the speed regulation, night mode for a silent operation. Minimum water probe and solenoid management, it's possible to manage the function even without the water probe. 
Remote Control iKSW2
Remote control for built-in and with cabinet units complete with touch keypad with 8 touch keys, LCD display with colored symbols. Modulating fan speed with PID logic, temperature regulation, winter/summer mode, automatic mode for the speed regulation, night mode for a silent operation. Minimum water probe and solenoid valve management. A maximum of 31 fancoils can be connected to the iKSW control for open space rooms. Each unit must have the iHBS2 powerboard installed. RS485 output for connection in BMS.
iHBS2 – On board semplified Control
Simple on board control for buit – in and with cabinet units, to be coupled with remote control iKSW2. iHBS2 control has a LED for the visualization of the device's operation. All the parameters are set up from iKSW2. It is possible to manage the function even without the water probe. The iHBS2 powerboard is able to supply power to IKSW2 control.
ATS2 – Control with 4 speed regulation
Controller for units with cabinet. Interface with 8 keys for the temperature selection, winter/summer mode, 4 speed regulation, (Max. Min. Night and Auto) with display for room temperature vizualization. Minimum water temperature probe and solenoid valve management. It's possible to manage the function even without the water probe. 
HBS2 Control – Powerboard card 
Semple on board control for built-in units or with cabinet units, to be coupled with ATW Climaveneta remote control or other remote controls which manage the regulation of fixed fan speeds. HBS2 has a a LED for the visualization of the devise's operation. All the parameters are set up from the remote control. There are 2 versions of this po