POMPE DE CALDURA, AER CONDITIONAT, CHILLER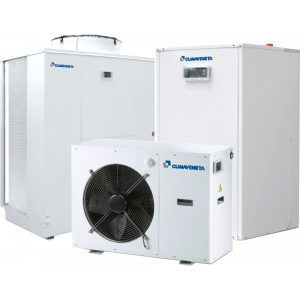 i-HWD2 102 – 902
Ducted High Head Hydronic Terminal with EC Brushless motor for continuous regulation of fan speed and air flow.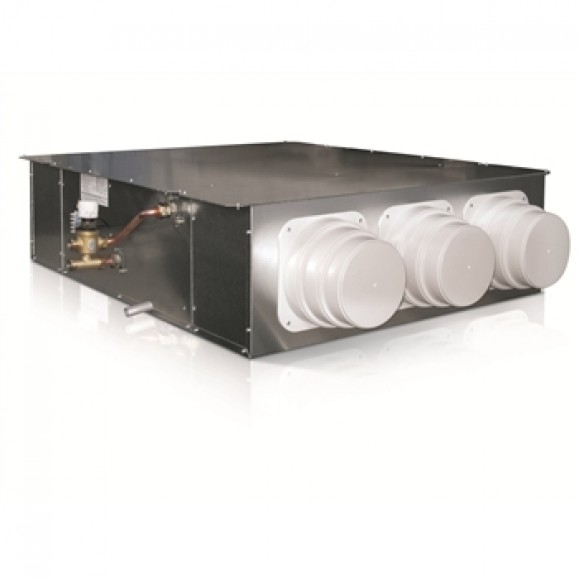 The new high head ducted units i-HWD2, are equipped with an EC Brushless motor fan of new generation with continuous modulation of the air flow, which ensures better comfort and real energy savings. The possibility of vertical and / or horizontal installation, the small dimensions and the wide range of accessories for the canalization, make these units very flexible in installation and adaptable to any type of system. Thanks to the brushless motor and the internal insulation the i-HWD2 guarantee an operation with high levels of acoustic comfort.
Version
DFIO – built-in version, front air intake, horizontal installation
DFIV – built-in version, front air intake, vertical installation
DLIO – built-in version, low air intake, horizontal installation
DLIV – built-in version, low air intake, vertical installation.
Features
Ducted Terminal unit for horizontal and vertical installation. Bearing structure made of thick galvanized steel sheet, resistant to rust, corrosion, chemical agents. Self-supporting and removable panels provided with holes for ceiling and wall mounting, directly from the main casing. Pre-cuts slots and prearranged holes to configure the unit upon request, to install the accessories, and to reverse the units even on – site. Discharge Flange on units.
High pressure centrifugal fan unit for ducted system;
High efficiency EC motor. Modulating speed centrifugal fan and air flow regulation. Energy consumption reduced by more than 50%
Highly efficient coil made of cooper pipes and aluminium fins. Standard connections on the right side; on request connections on the left side. Possibility to reverse the connections on-site. Coils tested at 30 Bar pressure, suitable to work with water at max. 15 Bar pressure. Incorporated additional coil, or additional coil section for 4 pipe systems. 
EU2 efficiency flat air filters, which may be easily removed from any side of the unit (bottom, side, top) for periodic cleaning. EU3 undulated air filter section, and EU5 with pocket air filter section.
Incorporated electrical heater, or electrical heater sections
Auxiliary drain pan with thermal insulation for all Horizontal versions, made of galvanized steel.
Configurations for 2 and 4 pipe Systems.
Accessory
Hot water coil kit
Heating element module
Main coil 2-way/3-way valve unit
Additional coil 2-way/3-way valve unit
Ductable air filter section, flat, undulated, or with pocket bags
Plenum kit with round, straight or 90° air ducts.
Section with Air Louver, manual and motorized
Noise level attenuator section for both air intake and supply outlets
Section for humidifier
Interface SPB Kit
i-HB Power box
Kit control board to manage 0-10V or 3 points modulating valve unit
Kit RS485 – interface for Building Management System
Kit Gateway interface for MyHome Bticino System
Auxiliary condensate collecting tray
Controls
ATW-EC Wall Control
User interface for selection of functioning mode (Off/Summer/Winter/Auto), fan speed (Max, Med, Min, Auto), and temperature set. Control of main and additional coil valve unit. (summer/winter 2 and 4 pipes installation). Management of traditional ON/OFF valve unit. Air and water temperature probe. Multifunction digital input configurable by user. Configuration dip switch. The controls can be connected to BMS system. 
Remote Control EKW
User interface for selection of functioning mode (OFF/summer/winter/AUTO), fan speed (Max/Med/Min/AUTO), temperature set. Control of main and additional coil valve unit (summer/winter – 2 and 4 pipes installation) . Management of traditional ON/OFF valve unit or modulating valve unit 0-10V or 3 points . Air and water temperature probe. Multifunction digital input configurable by user. Configuration dip switch. Modbus protocol for installation in BMS (e.g. Idrorelax system by Climaveneta). Installation and management of Master-Slave system up to 8 LIFE2 fan coil units. Easy control installation thanks to 2 wires connection.
iK control with LCD screen
Interface with LCD screen with user-friendly icons. Control kit for universal installation: wall-mounted as well as plug-in. Selection of functioning mode (OFF/summer/winter/AUTO), fan speed (Max/Med/Min/AUTO), temperature set. Control iK could function manually or with weekly timer regulation configurable by the customer. Control of main coil valve unit (summer/winter – 2 pipes) and additional coil (winter – 4 pipes). Management of traditional ON/OFF valve unit or modulating valve unit 0-10V or 3 points (supply 230 VAC or 24V) . Parameters configurable directly by user. Modbus protocol for installation in Building Management System (e.g. Idrorelax system by Climaveneta). Installation and management of Master-Slave system up to 8 LIFE2 fan coil units. Easy control installation thanks to 2 wires connection through HB power board